One simple tool for your course administration
Plan2learn provides you with one unified entry for all your work with course administration, which removes your manual tasks through automation, overview and unified management.
You can easily maintain all the courses in your catalog, build new courses and access an advanced overview of the course participants' progress.
Course participants can explore your course catalogue, register for their desired courses, and keep track of their progress under their personal "my page".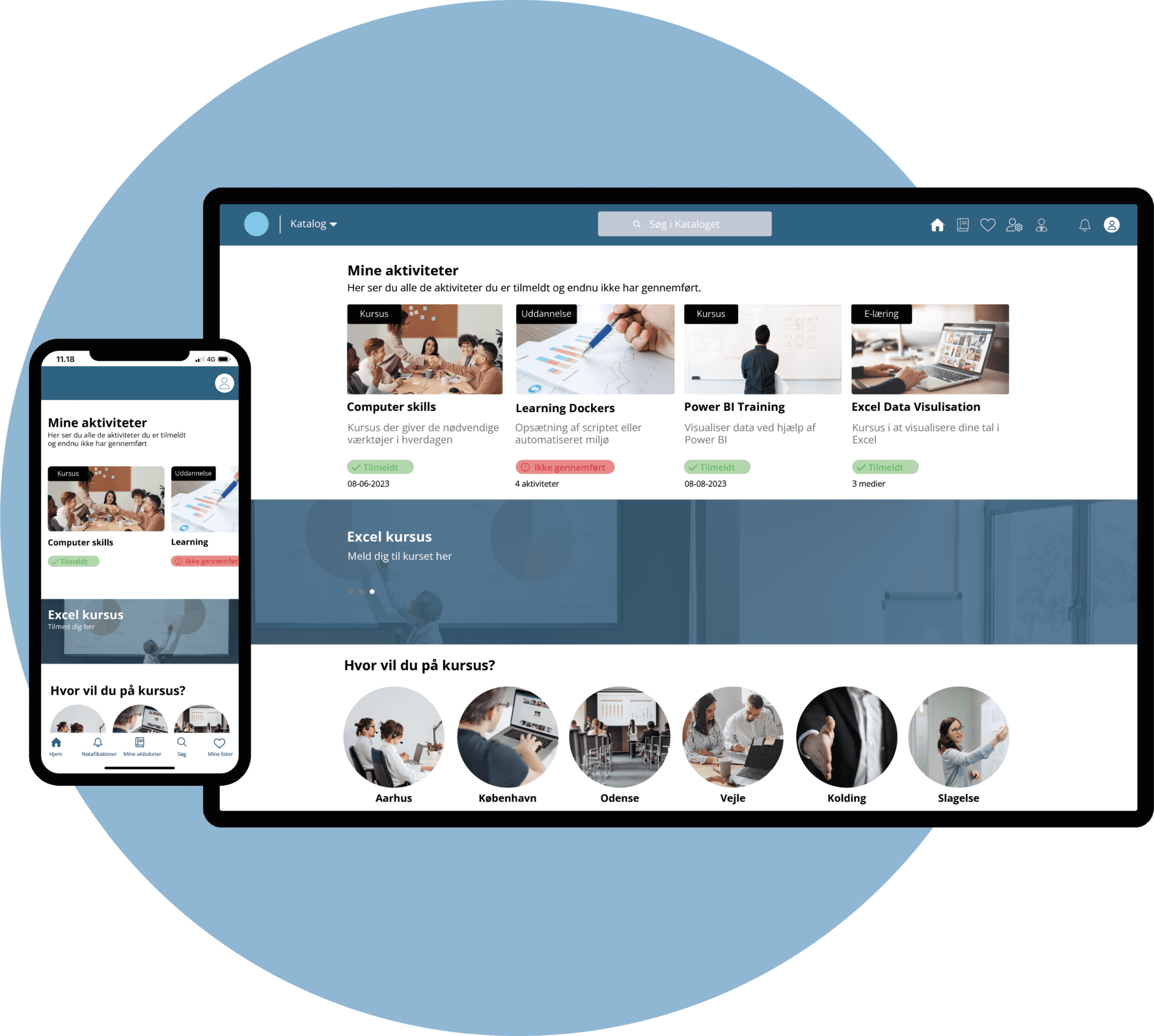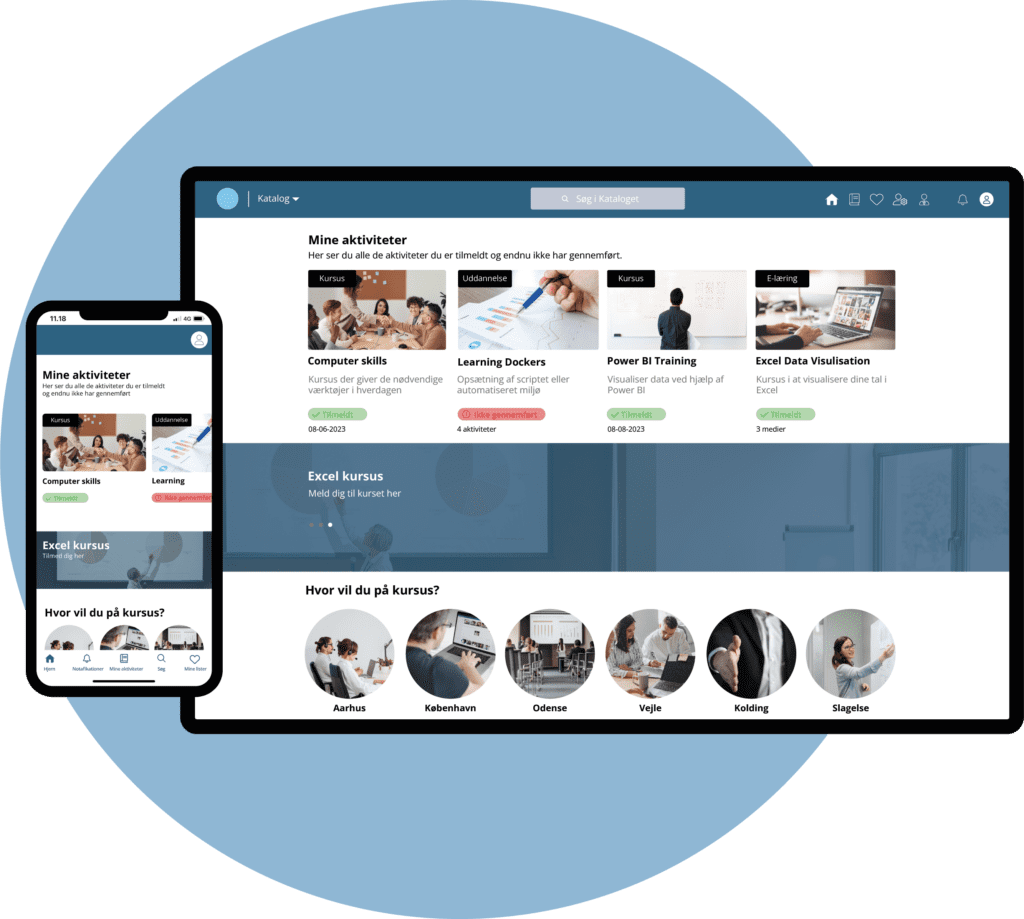 Simple administration
With employees divided into target groups, and automatic delivery of courses, you never need to do the same task twice.
Automatic onboarding
Build unique onboarding courses for your different departments and send the courses automatically. Keep track of individual employees' progress in the dashboard.
Learning on the go
Employees can easily access their courses on the go, regardless of which device they prefer and at any time of the day. They can even access their courses in Microsoft Teams with our Teams app.
End to end automation
With plan2learn, you can put your entire course administration on autopilot, and digitize the manual processes that eats so many of your resources. This covers everything from targeting and registration of courses, evaluation, implementation of learning and task management by administrators.
Automatic delivery of learning material to employees
Set up target groups and send the right learning to the right users
Templates ensure that you never have to do the same task twice
Completion of courses will automatically be documented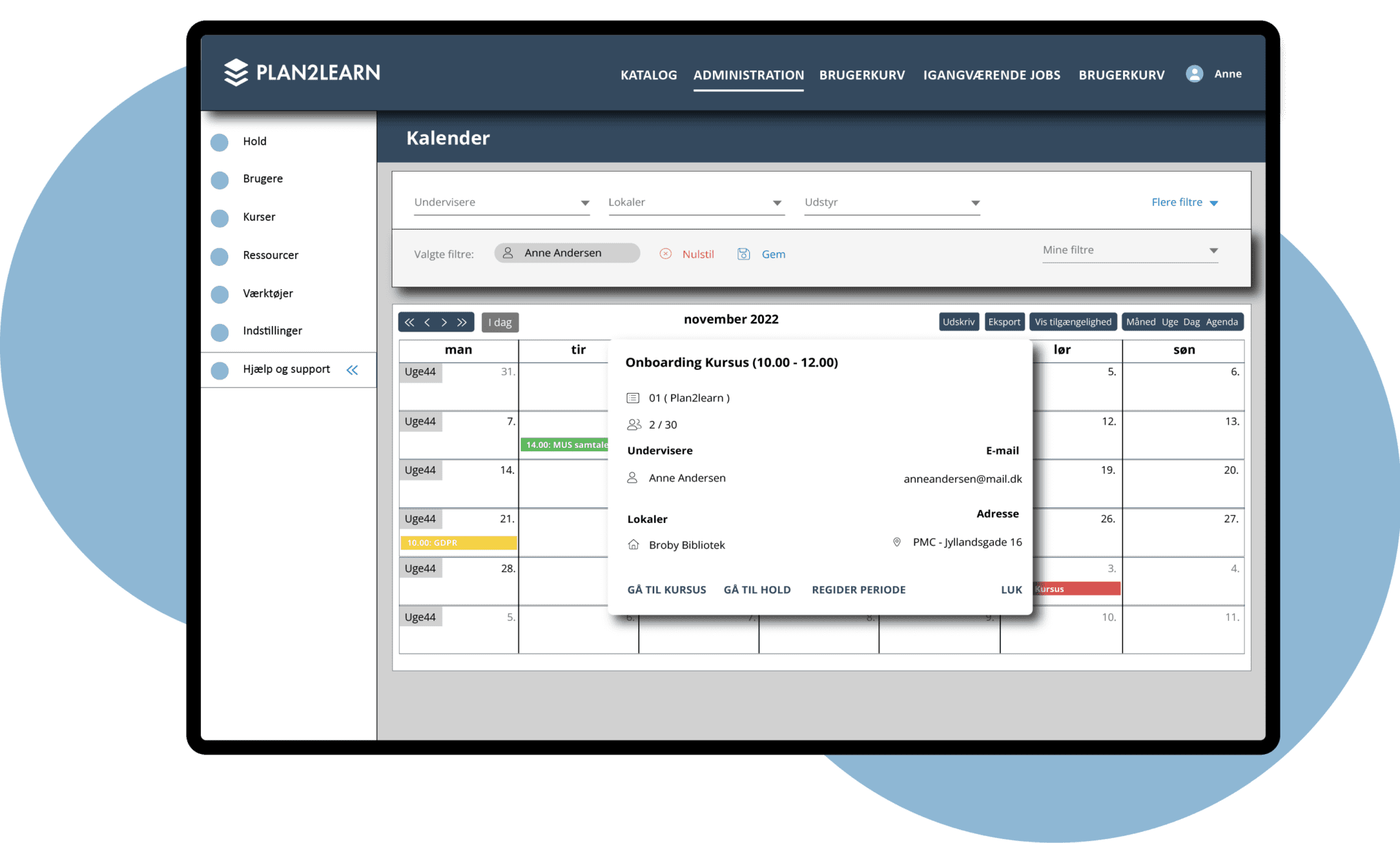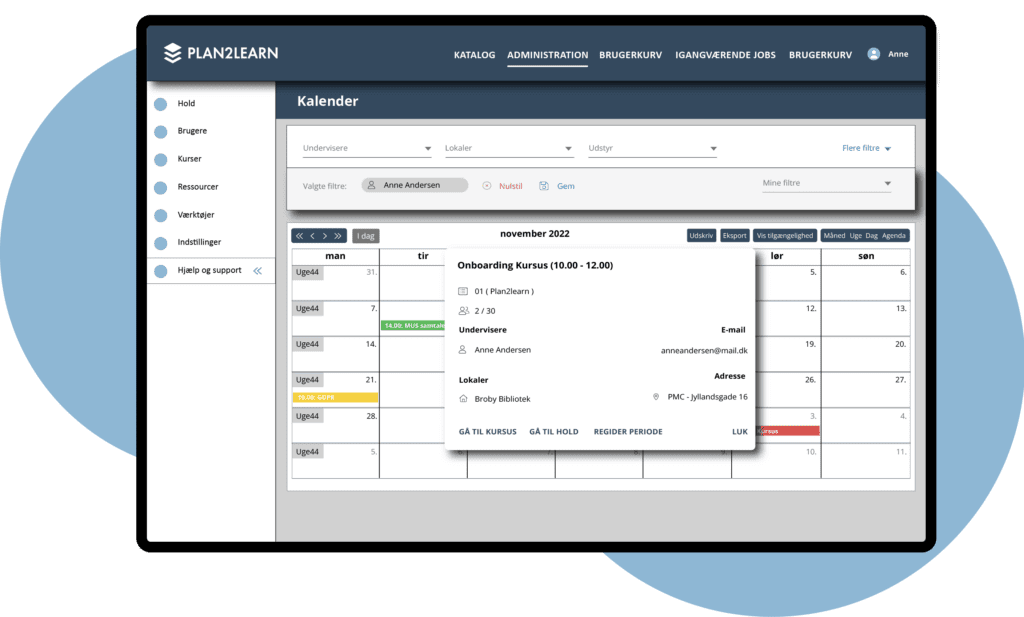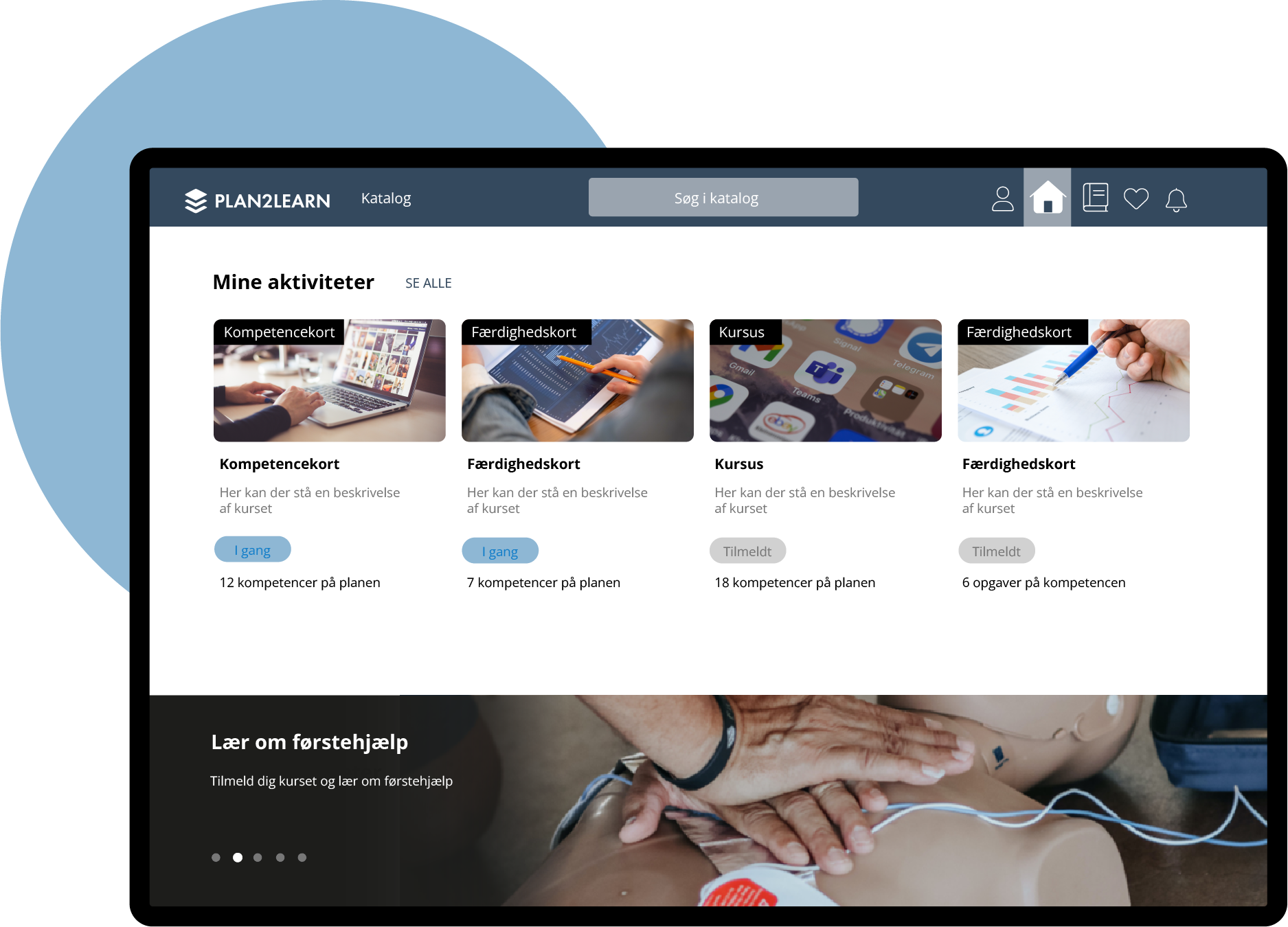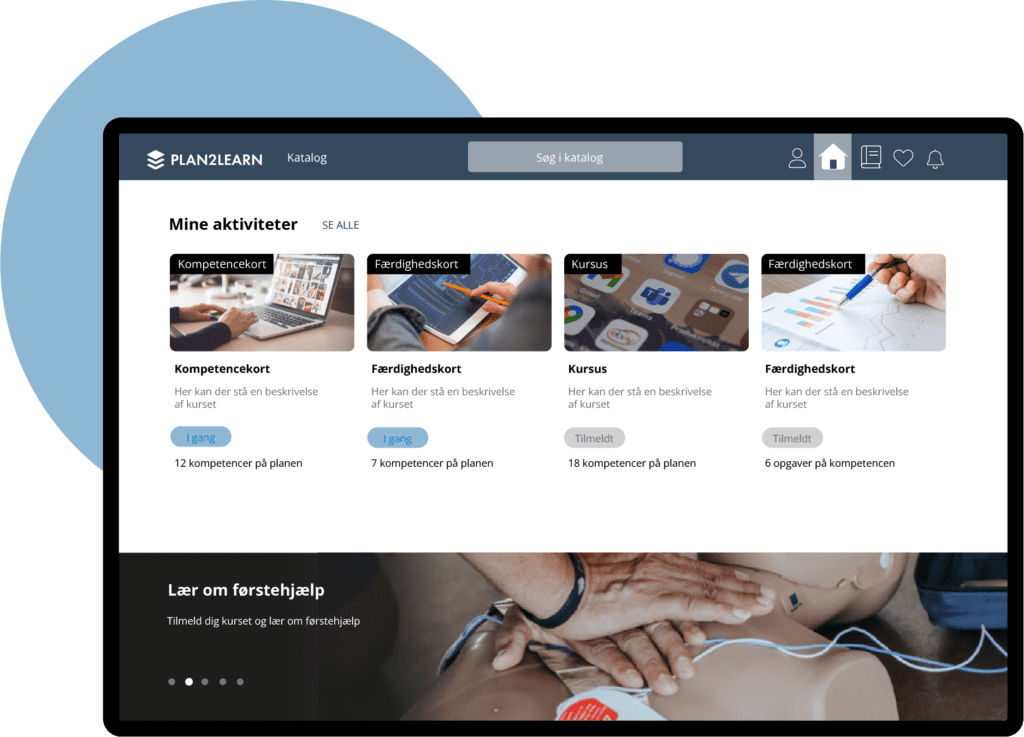 Suitable for course providers
As a private course provider, you will be able to build your own course catalogue, where you can easily design and present your courses and activities to your customers. This could be e-learning, face-to-face teaching, or longer blended learning courses.
Your customers will be able to easily search for relevant courses and have the option of subscribing to the activities that they want to be kept up to date with in the future.
Design your own course catalogue

Overview of your customers and their purchased courses

Participants can invoice courses to their own company
Personal onboarding and education
Onboarding can often be a time- and resource-heavy process, but plan2learn lets you put the process on autopilot. When you use plan2learn for your onboarding, you can look forward to:
Courses and learning materials gathered in one place
Build unique onboarding courses for your different departments
Keep track of individual employees' progress in our dashboard
Build your own e-learning and create material that keeps users engaged
Employees can easily access their learning on all devices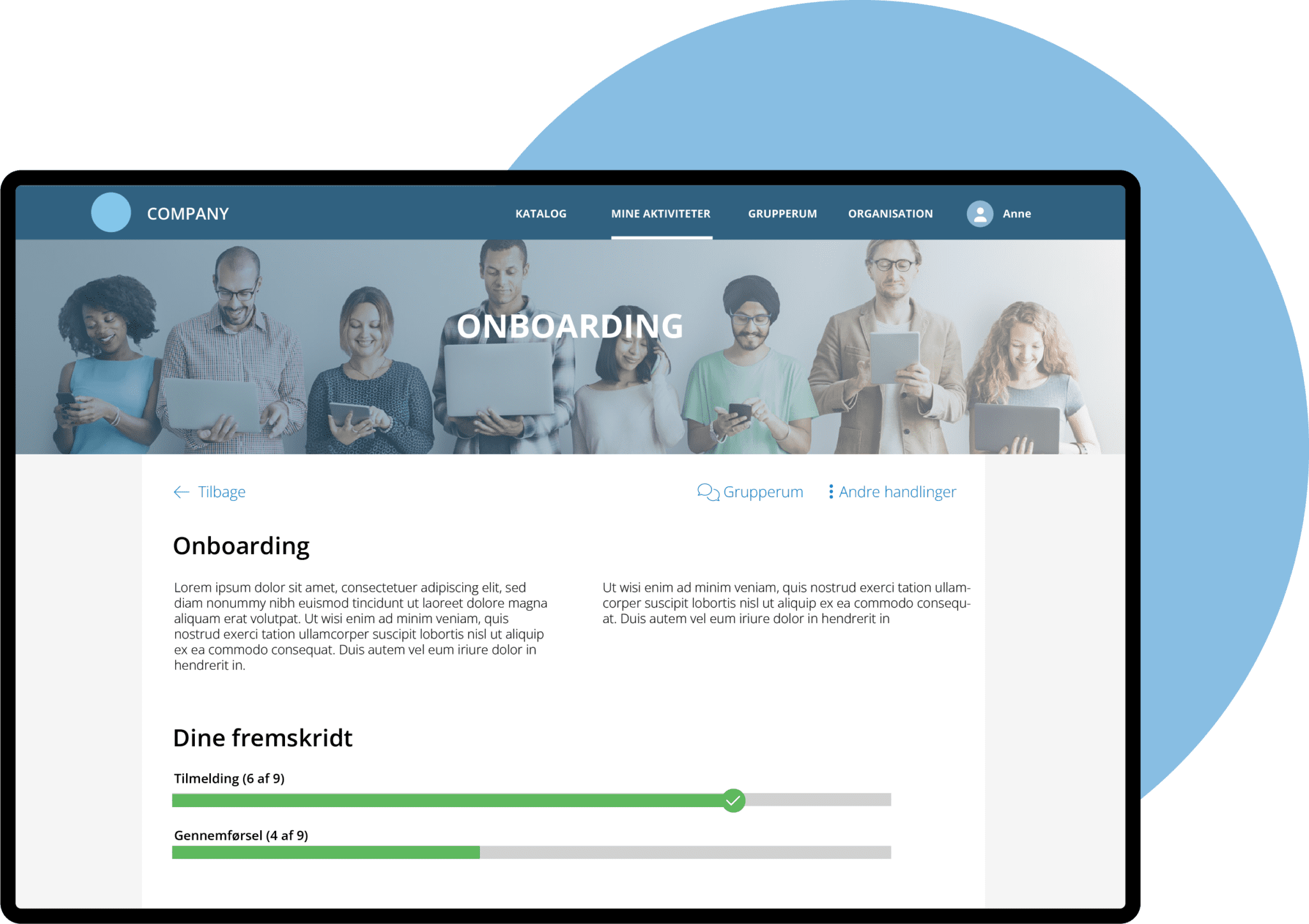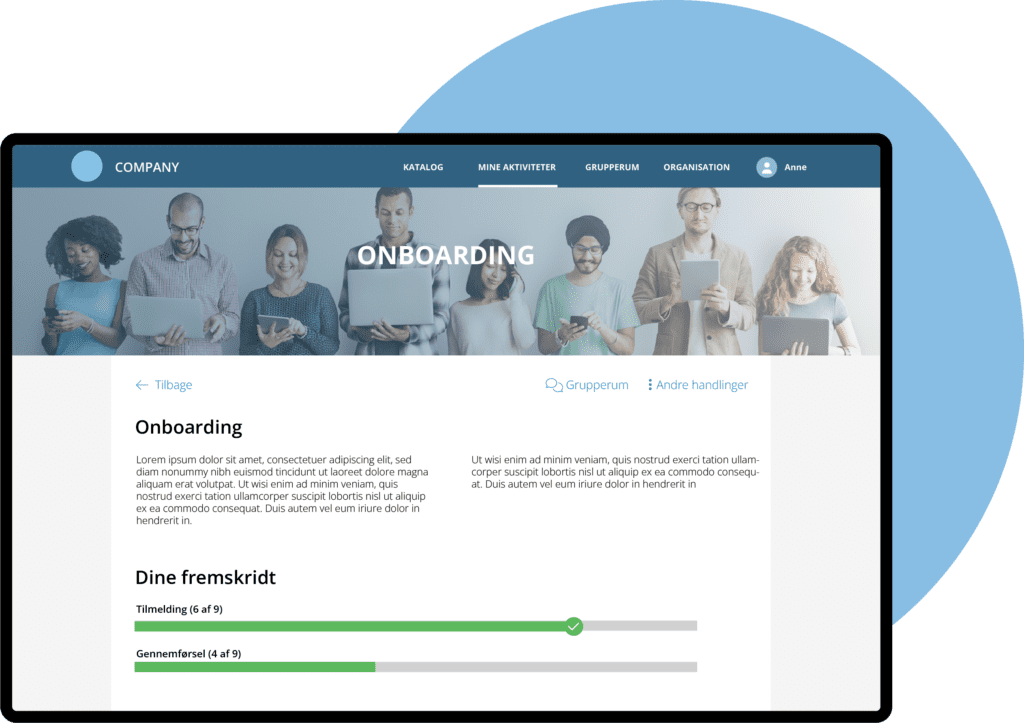 The process with plan2learn
Overview

With plan2learn, you get an overview of all courses and activities, both as a course participant and administrator. You can filter them by searching or using tags. You can also inquire about new courses, and receive automatic notification when a new course is offered.

Sign-up

The intuitive flow in Plan2learn makes it easy for you, as a user, to register. Among other things, you have the option of synchronizing the activities with your calendar, receiving reminders, viewing a timetable and getting driving directions.

Automation

Course administration becomes easier with plan2learn. The system can automatically handle many tasks, such as waiting list management, sending confirmations, reminders, course certificates, printing participant lists, etc.

Documentation

When a course has been completed, you can use plan2learn for evaluation, as well as registration of attendance and implementation, among other things. You can easily extract data to Excel and pdf for reporting and statistics.
"Course administration with plan2learn solves challenges for us through automation, overview and task management. Doctors in training, for example, have obligatory courses. They are easily registered, and after that, all correspondence runs automatically, and we can subsequently use the system to document that the doctors have completed their required training."
Mia Nørby, system manager in Region Nord
Simple course administration for the entire organization
As a user you can easily find and register for courses via the course catalogue. You also have a personal page where you can keep track of your upcoming and completed courses, as well as download documentation of completion
Som underviser har du din egen personlige side i plan2learn. Du kan nemt registrere fremmøde på dine hold, se de forskellige undervisningsmaterialer, og tilgå resultaterne for dine kursister.
As an administrator you avoid repeating the same process every time you need to create a course. In plan2learn, you only need to create components once, which includes confirmations, notifications, reminders, addresses and evaluations.
As a leader you get an overview of your employees' skills and activities. With the status report, you can quickly find out about the employees' registrations and required courses and certifications that have expired.
Wanna hear more about course administration?